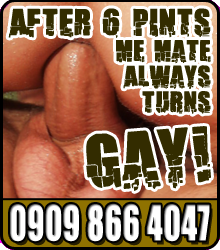 Lads 18+ True Feelings Come Out In Bathroom At Party!
It's his 18th and booze is flowing. These two lads have a deep conversation in the bathroom, one thing leads to another and before they know it they're sucking each other off!
0909 866 0491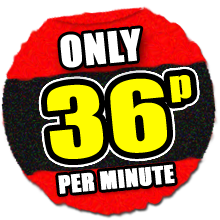 Cheap gay chat offers you Hardcore gay Stories at the low cost of just 36p per minute! We won't be beaten on price so get calling and get wanking!

Wrestlin' Buddies Jack Off In The Park!
Big Burly Wrestling Dudes go to the park to unwind after practice. How? They wank each others rock hard cocks, each making the other cum with expert precision!
0909 866 0494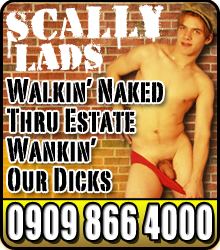 Dicks Strain Out Of Top Of Jeans Over Straight Porn
These Blokes watch porn together! Curious Guys get carried away and begin to experiment with each other bringing themselves the ultimate sexual pleasure!
0909 866 0496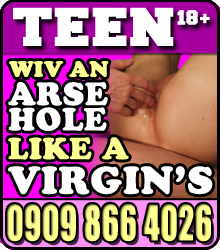 Cocksuckin' Boy 18+ Wants A Good Hot Mouth Full
This young lad needs cum and he needs it now! All he can think about is that lovely sticky cum coating his gums as it slips around in his mouth! The taste is divine!
0909 866 0499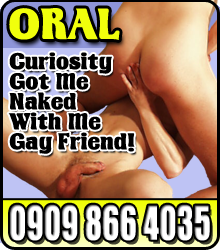 Hot Sweaty Lads 18+ Squirmin' Naked
It's a hot night and these boys are sweating, their naked bodies slipping against each other in a writhing frenzy of uncontrollable sex! Hardcore and very Filthy!
0909 866 4001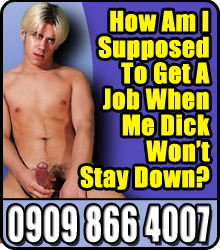 TOP GAY SEX STORIES
Shy Boy 18+ Darren Made
A Proper Hot Gay Porno!
Darren got a video camera for his 18th and he knows exactly what to do with it! He makes a filthy fucking porno with his mates with plenty of cum and lots of anal action!
0909 866 0834
He Thought he was Straight!
I thought I was straight but one day my mate began suggesting things to me! He was very persuasive and I hadn't shagged in weeks. I got hard just thinking about his warm mouth over my cock! Ultimate Gay Phone Sex!
0909 866 4122
Sucking my Dildo Clean
I love cock but I also love my dildo! I ram it deep in my arsehole stretching it as far as I can take until it's dripping in my anal juices. Then I like to suck it clean, savouring the taste of my rectal fluids.
0909 866 4203
Wear Yer Boxers For 3 Days Then Phone Me!
This is your instruction Gay Boy so you need to comply! Keep your boxers on for three days so they stink and then dial this number, if you do as you're told you'll be in for some hard Gay Fetish action!
0909 866 4048
I Stripped Vandal & Scrawled Obscene
Graffiti All Over His Fit Bod.
This guy kept tagging the wall by my flat. I saw him every night at the same time and decided to wait for him. I led him home and got my own back! Tagged him up good and proper then squirted him with me dick milk!
0909 866 4050
Gay Porno Gets Lads 18+ Havin'
Cock and Bum Fun
A homemade porno gets these lads in the mood for fucking! With the camera on them they go into overdrive showing off and performing for the lens! Filthy lads who will do anything to become stars and I mean anything!
0909 866 4002
How Straight Mates Found Out
Cock Suckin' Is Awesome!
In the dark they couldn't see who was sucking their cock but it felt great and they climaxed hard spunking their load quickly. Who was it in that dark room who was so good at sucking cock...
0909 866 4013
Me Cuz Woke Up To Find Me Dick
Woz In His Mouth!
He was awoken by something moving in his mouth. As he opened his eyes he realized it was his cuz's cock growing by the second and it needed release. He began to suck and lick it until he got the milk inside!
0909 866 4019
When Me Bird Can't Take No
More I Phone Me Mate
I can't get enough sex and me bird can't keep up with me! Me mate's gay and I can't help but ring him up for some extra fucking! It's just a bonus that he's tighter than me bird!
0909 866 4044
Wankin' In Me Car As I Drive Round
Rough Estates!
I love the rough Scally Lads you see hangin' round the estates. They get me so hard in their worn trainers and dirty trackies. I watch them, wank and sometimes persuade them to get in my car and suck!
0909 866 0492
I Shagged Beaten-Up Lad 18+
To Take His Pain Away!
In these Gay Sex Lines A Bloke takes a lad in to help relieve his pain after getting beaten up. No plasters needed just a massive cock rammed in his arse and deep down his throat to take his mind off the pain!
0909 866 0472
Straight Scallies Put Their Dicks In Gay Boy's 18+ Mouth As He Lies Chained To Bed
Gay Fetish action as this lad gets more than he bargained for in Scally lads Squat. Restrained, he takes their cocks deep down his throat, coughing and spluttering as they cum down him one by one!
0909 866 0490