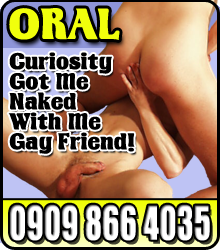 A Little Discomfort!
Curious or Out and Out Gay, whatever your Sexuality, this story will bring you slowly towards an Intense Climax which will leave your Balls Drained but Hungry for Cock!
0909 866 4153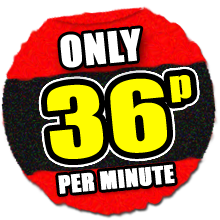 Cheap gay chat offers you Hardcore gay Stories at the low cost of just 36p per minute! We won't be beaten on price so get calling and get wanking!

Holy Fuck & Suck!
Horny Gay Fucking in this Story of Sexual Depravity! Listen as you Wank yourself Silly to these Gay Boys with a thirst for hot sticky Cum!
0909 866 4267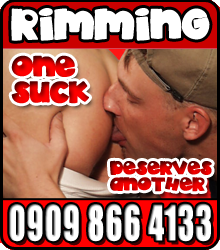 Doing it for Myself!
This Hungry Homo starts a Filthy Fuck Fest which Leads to all kinds of Dirty Sex! Lay Back, Dial the Number and begin a wanking experience you'll never forget!
0909 866 4276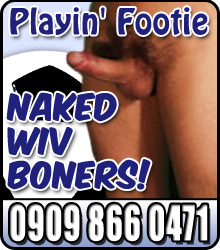 Chance Encounter
This story will blow your mind and your load! Take yourself to the limits of gay pleasure with this perverse tale of Sucking and Fucking! Loads of Cum 'n' Loads of Bum!
0909 866 4244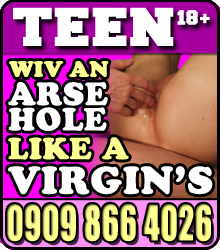 Boy 18+ Wankin' Naked In Flat Across The Road
WARNING! This Story is not for the Faint Hearted. Prepare for some extreme Gay Phone Sex that will push your Boundaries to the limits of Sexual Perversion! Prepare Yourself Now!
0909 866 0477





ORAL STORIES
Me and Me Mate Do Something
Different Each Week!
I Love to Experiment with me Mate! We make a point of trying something different each week! We Ring Gay Sex Lines to get us in the Mood before starting our Fuck Sessions. I Cum in his Face and Watch as he Slowly Licks it off, It Turns me on and he Loves the Taste of it!
0909 866 0319
Obscene Graffiti On Communal Stairway Led To Cock Suckin' wiv my neighbour!
I Always Pass the Stairway and notice the obscene Graffiti scrawled on the wall! One day I caught the bloke doing it and he was Fit! I told him "You can do that to me if you like!" He ended up round me flat sucking me off good and proper and I returned the favour swallowing all his lovely warm cum!
0909 866 0357
Boy 18+ Cums Wiv Dick
Bouncin' In Every Direction
This Boy can Suck for England and he Fucks like a good 'un too. These Gay Phone Sex Lines will blow your mind when you hear the Filth that goes on in this Hardcore Story of depravity and Lust! He does it every which way, his Cock Bouncing all over the place growing Harder and Harder, Ready to Burst!
0909 866 0443
Cute Boy 18+ Wanks Yer Cock
Wiv His Thick Ripe Lips!
This Cute Boy with Plump Ripe Lips is an Expert at Sucking Cock! If you've got a Gay Fetish for Cock Sucking then this is the Story for you. Listen as he shows off his Skills, bringing Guys Pleasure with Precision. He Loves Sucking Cock and no Amount of Practice is ever Enough, he just wants more!
0909 866 0446
He Sucked Me Dick Like He
Sucks Me Bruv's Dick!
Me Bruv's Gay and his Fella's always round our Place Sucking his Cock! He Loves Gay Hunks and I started working out recently! He came in my room the other night and Just Started Noshing on my Dick. I couldn't believe it but It felt so good I just Couldn't Stop Him! He's had Plenty of Practice!
0909 866 0452
Boy 18+ At Baths Sits Wiv Feet
Danglin' In Pool While I Suck him
The Pool was Pretty much Empty when I saw him Sitting there on the Edge. He was Giving me the Signs and I Knew he Wanted me! I was so Fucking Horny I couldn't resist the Temptation and Swam up to him Before Burying my Face in his Balls, Sucking him dry, Looking up at his Pretty Face as he Came in my Mouth!
0909 866 0465
Cute Boy's 18+ Silky Hot Bell-End In Me Face
This Ultra Hot Gay Phonesex Story Tells of a Guy who gets a go on a Cute boy who's as horny as they Get! He Sticks his Warm Bulging Bell-End in his Face with a Touch of pre cum Glistening on it's Eye like a Tear of Joy! What Pleasure he gets Sucking it, Swallowing his Load Deep Down his Throat!
0909 866 0481
Havin' Dick Fun Wiv Me Sleepin' Cuz!
Cock Sucking Thrills in this Story of Extreme Oral Pleasure! Listen as these Lads Suck Each Other off and Swallow each others Sticky Man Juice Savouring the Taste and Texture which they Crave so much! Scally Lads Phonesex meets Cock Sucking Action that will make you Cum Hard and Fast.
0909 866 0482