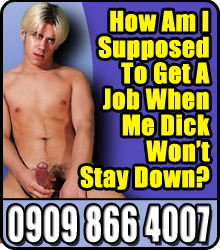 In the Public Shower!
Horny Gay Fucking in this Story of Sexual Depravity! Listen as you Wank yourself Silly to these Gay Boys with a thirst for hot sticky Cum!
0909 866 4154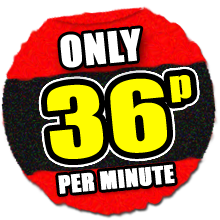 Cheap gay chat offers you Hardcore gay Stories at the low cost of just 36p per minute! We won't be beaten on price so get calling and get wanking!

Rough Sex
This Hungry Homo starts a Filthy Fuck Fest which Leads to all kinds of Dirty Sex! Lay Back, Dial the Number and begin a wanking experience you'll never forget!
0909 866 4119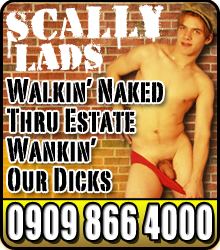 I Wasn't Into Cock Till I Met Me New Girlfriend's Twin Bruv!
This story will blow your mind and your load! Take yourself to the limits of gay pleasure with this perverse tale of Sucking and Fucking! Loads of Cum 'n' Loads of Bum!
0909 866 4052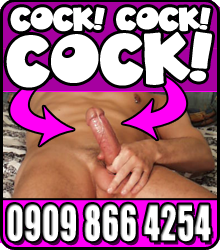 Hot Dicks In Boys' 18+ Shorts
WARNING! This Story is not for the Faint Hearted. Prepare for some extreme Gay Phone Sex that will push your Boundaries to the limits of Sexual Perversion! Prepare Yourself Now!
0909 866 0445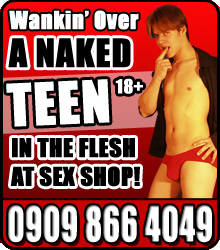 White Cotton Y-Fronts Stretched Tight Over Our Hot Dicks
Curious or Out and Out Gay, whatever your Sexuality, this story will bring you slowly towards an Intense Climax which will leave your Balls Drained but Hungry for Cock!
0909 866 0448
GAY HUNKS
Straight Mates Get Horny In Their Snug Little Boxers
These Fit and muscular Gay Hunks don't know they're Gay until they see each other in their tight little boxers! They can't help themselves as they admire each others toned bodies and end up bumming each other and sucking each others cocks dry until they've emptied each others balls!
0909 866 0359
I Made A Solo Porno
I've always wanted to film myself ramming my huge dildo up my arse and wanking my huge throbbing Cock! I get the chance and grab it with both Hands!It turns me on so much to know someone will be watching me pleasure myself Like that! Listen to the Filth I get up to on this shoot!
0909 866 0429
Me Straight Mate Got Pissed
and Let Me Suck Him Off!
This Guy always wanted to suck his mate off but it took a night out on the piss for it to happen! Alcohol fueled, this Gay Phone Sex story tells of a guy who gets his wicked way with his drunken friend and sucks every last drop of the warm sticky cum which he has craved for so long! He Finally gets to taste it!
0909 866 4095
At the Gym!
Gay Hunk meets Scally Lads Phonesex in this tale of Hot Animalistic Fucking at the local Gym. Things get Hot and Sweaty and the Testosterone is rising as these two work out! An Encounter in the Changing Rooms leads to a filthy sex session that ends in floods of Cum and a Workout to beat all others!
0909 866 4297
Straight Guy Converts!
This Guy has been a little curious for a while and eventually gives it a go! He's tried the Gay Sex Lines before but now he wants to try it for real! Hear him Suck and Fuck as he finally cums out the closet with conviction! He can't believe how good it feels and wonders why he never did it before!
0909 866 4113
Hot Cocks In Cold Showers!
Lots and lots of Hot Cocks! If you've got a Gay Fetish for Hunky Wet Cocks in Showers then this is the story for you! Lay back, unzip and fulfil your desires to this Filthy story of Pure Homosexual Lust between lots of blokes in the showers all eager for a taste of that Salty Man Milk!
0909 866 4065
Jackin' Cocks Under The Jacuzzi Bubbles!
Regular trips to the Jacuzzi and Steam Rooms allow these guys to get comfortable with each other and soon things start hotting up. Hands stray under the Bubbles and they begin to tease each others growing Cocks bringing each other the Ultimate Pleasure until they spunk their load in the Warm Water!
0909 866 4058
Real 'Hard' Work
These Boys Work Hard and Need to Unwind at the end of the Day. They Release their Tensions using every Trick in the Book! Using their tongues with expert Precision they tease their Cocks to the edge of climax, holding back the pleasure to the last second giving the other the most pleasure possible!
0909 866 4265