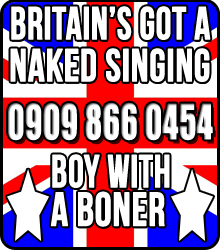 When U See Yer Mate Asleep U Gotta Pull Down His Bulgin' Shorts!
This story will blow your mind and your load! Take yourself to the limits of gay pleasure with this perverse tale of Sucking and Fucking! Loads of Cum 'n' Loads of Bum!
0909 866 4018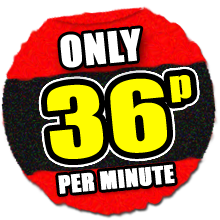 Cheap gay chat offers you Hardcore gay Stories at the low cost of just 36p per minute! We won't be beaten on price so get calling and get wanking!

I Wanna Nob Me Cousin's Sweet Bum So Bad!
Horny Gay Fucking in this Story of Sexual Depravity! Listen as you Wank yourself Silly to these Gay Boys with a thirst for hot sticky Cum!
0909 866 4020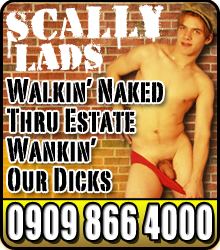 Unbutton Me Jeans Back Of Charity Shop
WARNING! This Story is not for the Faint Hearted. Prepare for some extreme Gay Phone Sex that will push your Boundaries to the limits of Sexual Perversion! Prepare Yourself Now!
0909 866 4025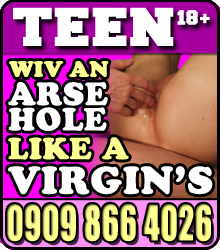 Dick To Dick Humpin' In Front Of Our Birds
Curious or Out and Out Gay, whatever your Sexuality, this story will bring you slowly towards an Intense Climax which will leave your Balls Drained but Hungry for Cock!
0909 866 4028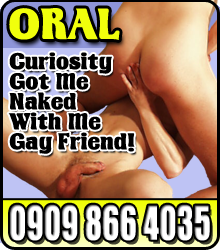 I Warmed Up The Paperboy's 18+ Cold Extremities
This Hungry Homo starts a Filthy Fuck Fest which Leads to all kinds of Dirty Sex! Lay Back, Dial the Number and begin a wanking experience you'll never forget!
0909 866 4054


TWINK STORIES
Me Mum's Boyfriend Caught Me & Me
Mate Naked On The Bed
Me and me Mate always Fuck Around in Bed and get up to all kinds of Dirty Stuff in the sack! This time Me Mum's Boyfriend walked in on us! To my shock he joined in too! I couldn't believe it but It was a good hard session and he has got a massive dick. Hardcore Fucking and Lots of Sloppy Sucking!
0909 866 0358
Squirm Naked Wiv Skinny Boys 18+
This Gay Phone Sex Story will Heighten your Pleasure and make you Cum Hard and Fast. Listen as This Guy gets to Writhe and Squirm around with these Skinny boys groping at their slender bodies, Rimming their arses, Sucking their Cocks and fucking 'em good and hard Cumming deep inside their Bums!
0909 866 0428
Teen Boy 18+ Thinks About Sex 24-7
This Twink can't get Sex out of his mind calling Gay Sex Lines all the time to get some relief! Listen as he finally gets what he needs and takes a man's full length up his arse, stretching his tight hole pushing his limits to the max! This is a Hardcore story with Filthy Fucking and Lots of Sucking!
0909 866 4099
I Made Dirty Phone Calls To Me
Mate's Younger 18+ Bruv!
I fancy me mates younger bruv! I couldn't control myself and I rang him to hear his voice as I wanked myself off. I needed to hear him talking as I came and I kept him on the phone as I stroked and teased my growing Cock! I Got so horny when I heard his voice and Immediately got a hard-on...
0909 866 4091
Paperboy 18+ Pissed Himself Before
He Got To Me Toilet
Pissing Gay Fetish? This is the Story for you! This Paper boy needed to use the loo but it was too late to make it, he pissed himself right there and then! This Guy took full advantage and insisted on him taking his wet clothes off and once he was naked, well, things got dirtier and more filthy...
0909 866 4055
Kyle gets Detention!
This Twink Loves Gay Hunks and he Gets Detention from his Hunky Tutor! He begins his Punishment by Having to suck his Tutor off, swallowing every drop of his Cum so as to not spill any! He then has to take his hunky tutors Huge throbbing Cock up his Arse and allow him to cum inside him!
0909 866 4189
Suck me Dick and Fuck me Bum!
This Horny Twink wants his Dick Sucked and his Bum Fucked! Listen as he Moans and Groans with Pleasure as his arse gets penetrated by a throbbing hard Cock! For Dessert he gets sucked off and Squirts his load deep down this Guys throat making him gag!
0909 866 4059
Straight Lads 18+ Get Horny Talkin'
About Their Gay Friends!
Listen to these Straight Lads chatting about their Gay Friends! They Are obviously curious and interested in the whole Gay thing! Things start to get Horny and the lads start to act upon their urges. Call this Number to see what happens next!
0909 866 4023