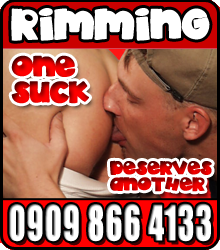 Wank Wiv Horny Lad 18+ While He Talks Well Dirty
This Hungry Homo starts a Filthy Fuck Fest which Leads to all kinds of Dirty Sex! Lay Back, Dial the Number and begin a wanking experience you'll never forget!
0909 866 0450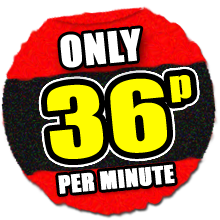 Cheap gay chat offers you Hardcore gay Stories at the low cost of just 36p per minute! We won't be beaten on price so get calling and get wanking!

I Luv Sittin' Naked In Front Of Me Mate Spreadin' Me Legs & wankin'
WARNING! This Story is not for the Faint Hearted. Prepare for some extreme Gay Phone Sex that will push your Boundaries to the limits of Sexual Perversion! Prepare Yourself Now!
0909 866 0463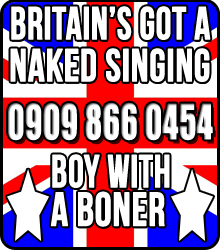 Lads 18+ Checkin' Their Dicks Against A Big Dildo
Curious or Out and Out Gay, whatever your Sexuality, this story will bring you slowly towards an Intense Climax which will leave your Balls Drained but Hungry for Cock!
0909 866 0470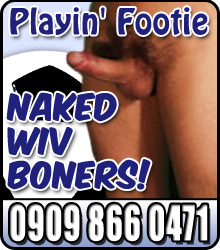 Horny Gay Fucking in this Story of Sexual Depravity! Listen as you Wank yourself Silly to these Gay Boys with a thirst for hot sticky Cum!


0909 866 4170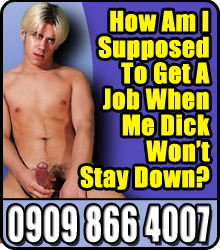 Eddie Does Drew!
This story will blow your mind and your load! Take yourself to the limits of gay pleasure with this perverse tale of Sucking and Fucking! Loads of Cum 'n' Loads of Bum!
0909 866 4124





RIMMING STORIES
I Showed Paul You Don't Need A
Big Dick To Have Fun!
This Guy Paul has a few Hang-ups about the Size of his Dick but I know how to have fun with a Guy who's not very well Endowed! I Pleasure Paul with my Tongue, Rimming his Cute little Arse while I Jerk his Dick off Bringing him to Climax as my Tongue Roots around his Arsehole Heightening his Pleasure!
0909 866 0484
Me Face In Yer Warm Sticky White Undies!
In this Gay Phone Sex Story this Guy Buries his Face in the Cum Sodden Pants of A Horny Bloke who can't stop Wanking and Needs some Help to Satisfy his Desires! The Aroma of his Spunky Undies Turns him on and he Just Wants to Breathe in the Stench before Pulling them down and Rimming his Arsehole!
0909 866 0705
Arse fuck and face fuck split 3 ways!
Gay Fetish for Rimming? This story will have you creaming ya pants in no time! Listen as these Three Guys Fuck each others Arses, Ram each others Throats and Rim each Other Until they Squirt their Spunk hard and Fast! A Hardcore Orgy of Sexual Deviance Pushes their Pleasure Further than Ever Before!
0909 866 4171
Sticky Summer Night!
It's a Hot Sticky Summer Night and these Guys are Restless. They need to do Something to take their Mind off the Heat! These Sweaty Arses need Licking Clean and they Fucking Love it, Reaching their Twitching Tongues Deep Inside their Moist Arseholes gets them so Fucking Hard!
0909 866 4196
Skint Mates Make Gay Porno!
These Scally Lads Phonesex Mates are Skint and Need to Make some Extra Cash! What better way than Getting Down and Dirty with each other, Rimming each others Arses and Pleasuring each other's Rock Hard Cocks! Hear them Groan with Sheer Pleasure as they Film their Filthy Antics and Cum Hard!
0909 866 4080
When Me & Me Cuz Became
More Than Wank Buddies
Me and me Cuz are Gay Hunks and we Love a Good Wank! We Decided to try Something new and give Rimming a try. I Never Knew how Good it could Feel. It was Amazing! The Sensation of a Moist Writhing Tongue Deep up my Tight Arsehole is like Nothing Else I have ever Experienced! I'm now Addicted to Rimming!
0909 866 0392
Wankin' Over Sweaty Undies At The Baths!
I Often Ring Gay Sex Lines and get Dirty Thoughts all the Time Involving Guys! When I Saw some Sweaty Undies on the Floor at the Public Baths I Couldn't Resist and I Took Them! I had a Good Wank over them and Imagined Rimming the Owners Tight Arsehole, Sniffing the Sweaty Aroma which got me So Hard!
0909 866 0432
By The Fountain U Bury Yer Face
In Me Sweaty Crack!
This Horny Dude Is Addicted to Rimming! He just Loves the Feel of a Tongue Flicking in and out of his Arsehole, Teasing it, Bringing him Exquisite Pleasure like Nothing Else! These Guys Meet by the Fountain and he Gets a Good Rimming Session off Him!
0909 866 0298