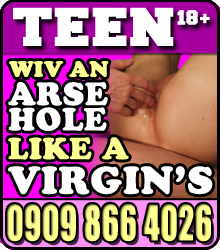 Me Bird's Brother's Got A Tight Arse!
WARNING! This Story is not for the Faint Hearted. Prepare for some extreme Gay Phone Sex that will push your Boundaries to the limits of Sexual Perversion! Prepare Yourself Now!
0909 866 4017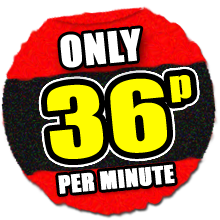 Cheap gay chat offers you Hardcore gay Stories at the low cost of just 36p per minute! We won't be beaten on price so get calling and get wanking!

Wanna Feel Yer Big Hot Fucker In Me Tight Hole!
Curious or Out and Out Gay, whatever your Sexuality, this story will bring you slowly towards an Intense Climax which will leave your Balls Drained but Hungry for Cock!
0909 866 0475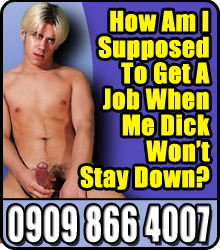 Suckin' & Fuckin' The Babysitter!
This story will blow your mind and your load! Take yourself to the limits of gay pleasure with this perverse tale of Sucking and Fucking! Loads of Cum 'n' Loads of Bum!
0909 866 0478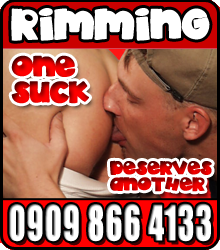 Outdoor Pissin' Wiv Me Trackies Halfway Down Me Arse
Horny Gay Fucking in this Story of Sexual Depravity! Listen as you Wank yourself Silly to these Gay Boys with a thirst for hot sticky Cum!
0909 866 0479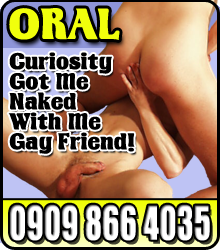 Runnin' Naked Down Corridors At College Wiv Bobbin' Boners
This Hungry Homo starts a Filthy Fuck Fest which Leads to all kinds of Dirty Sex! Lay Back, Dial the Number and begin a wanking experience you'll never forget!
0909 866 0489



VIRGIN STORIES
Me Dick Bulges In Me Skimpy Speedos
As I Stretch Me Skinny body!
This Lad has a Stretch Before Taking a Dip in the pool and his Dick Bulges in his Tight Trunks! In this Gay Phone Sex Story You'll hear this Virgin get Fucked up the Arse and Stretched Wide with a Huge Veiny Cock! Listen to him Yell with Pain and Pleasure as his Arsehole is put Through the Paces!
0909 866 0339
Gay & Straight Boys 18+ Strokin'
Boners In The Moonlight!
These Lads get Freaky at Night and Stroke each others Rising Cocks until they Spit Their Man Milk from their bulging helmets! These Gay Sex Lines will have you Begging for more as you hear these Filthy Man Slags get Hot and Horny with each other, sucking, Fucking and Wanking Themselves Silly!
0909 866 0395
Huddled Up Close Against A
Straight Tender Teenager 18+
This Guy Finds Himself in the Envious Position of Cuddling up to a Teenager. He has a Gay Fetish For Teens and is in Heaven when He Finds Himself in this Position. Listen as he Fucks this Innocent Virgin's Nice Tight Arse, Enlightening him to the Pleasures of Anal Sex!
0909 866 0396
I Showed Me Straight Mate That Being Fucked By A Boy 18+ Is Better than fuckin a girl!
This Lad Persuades his Mate that Getting Fucked by a Boy is Better than Fucking his Bird! Listen as these Scally Lads Phonesex Man Slags Pleasure each other to almost Unbearable Levels! Stretching his Tight Virgin Arse Gives him so much Pleasure he can't get enough of Slipping Deep inside his Warm Love Tunnel!
0909 866 0433
Me Growin' Cock Freaked
Me Out In The Gym!
There are Loads of Gay Hunks down me Gym and I wasn't sure how I felt about these Guys! Then When Me Cock started getting Hard I realized that what I wanted was one of these Muscle Bound Guys to Ruin my Nice Tight Virgin Arse! I know What I Want now and That's what I get in this Hot Story of Hardcore Fucking
0909 866 0441
We Gave Sweet Nathan The
Gayest Ever 18th Birthday!
We all put the effort into a great Party for our Nathan. He Fucking Loved it! Listen as he gets pleasured on his 18th getting fucked up his arse and sucking Cock. He Got an 18th that Made him a Man! Now he Knows Exactly what to do in any Situation. He can Suck, Fuck and Wank like A Pro Now!
0909 866 0451
It Started Wiv Boys 18+ Bein'
Rude In Their Bedrooms
These Lads get Inquisitive and Experimental in the Privacy of their Bedrooms! It Started with some Touching but Things soon got more Intense and ended up with some serious Arse Fucking and Cock Sucking! These Virgins get down to some Very Hardcore and Dirty Fucking. Explicit and Filthy!
0909 866 0485
Me Shy Mate Finally Joined
Me In A Naked Wank!
I have been Trying to get me Shy Mate to Loosen up a Bit for a While now and I Finally got Somewhere when I Persuaded him to Join me in a Naked Wank! He's never done anything like that before so I had to Encourage him a lot but when He did we both Fucking Loved it!
0909 866 0487