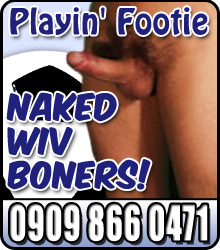 Boys on Heat!
This story will blow your mind and your load! Take yourself to the limits of gay pleasure with this perverse tale of Sucking and Fucking! Loads of Cum 'n' Loads of Bum!
0909 866 4273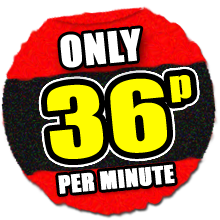 Cheap gay chat offers you Hardcore gay Stories at the low cost of just 36p per minute! We won't be beaten on price so get calling and get wanking!

Tight Arse!
Horny Gay Fucking in this Story of Sexual Depravity! Listen as you Wank yourself Silly to these Gay Boys with a thirst for hot sticky Cum!
0909 866 4211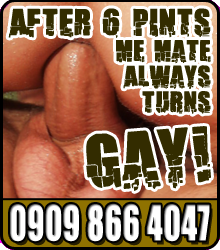 Gang Get Boy's 18+ Shorts Wet Wiv Water Pistols
This Hungry Homo starts a Filthy Fuck Fest which Leads to all kinds of Dirty Sex! Lay Back, Dial the Number and begin a wanking experience you'll never forget!
0909 866 4066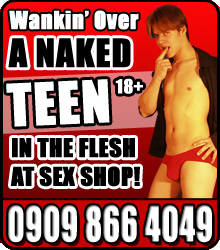 Tight Undies Stretched Over The Paperboy's 18+ Boner
Curious or Out and Out Gay, whatever your Sexuality, this story will bring you slowly towards an Intense Climax which will leave your Balls Drained but Hungry for Cock!
0909 866 4056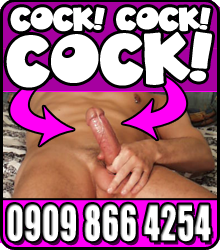 I Cum & 5 Minutes Later I Get More Sexy Tingles In Me Balls
WARNING! This Story is not for the Faint Hearted. Prepare for some extreme Gay Phone Sex that will push your Boundaries to the limits of Sexual Perversion! Prepare Yourself Now!
0909 866 0473





UNIFORM STORIES
Postman Fucks Naked Lad 18+
Over The Balcony!
The Postman Always Hand Delivers to this One Lad in the Flats just so he can see him! In this Gay Phone Sex Story He Finally Gets what he Wants, a Good Hard Fucking Session and empties his Fully Laden "Post Bag" Right up this Lads Arsehole leaving him begging for more of that Postman Pleasure!
0909 866 0268
Dirty Lad 18+ Stood In Just His
Jock & Sox In Sports Shop
This Lad gets Carried Away in the Sports Shop! He has a Fetish for Sports Gear and Nothing Turns him on More than Some Tight Shorts, Long Socks and Sport Vests! With these Gay Sex Lines you'll Listen as These Guys Suck Each Other's Rock Hard Cocks and Release their Cum up Each Others Arses!
0909 866 0315
Me Dick Flaps Out Of Me Runnin' Shorts!
My Sport Shorts are Small and me Cock always Flops out of them when I'm Running. If You've Got A Gay Fetish for Tight Shorts then this Story is for you! These lads love pulling their shorts down to reveal their huge throbbing Schlongs ready to be Sucked to Bursting Point and They Love to Swallow!
0909 866 0431
Lads 18+ Swap Underpants
In Toilets At Doctors
This Scally Lads Phonesex Story Involves A Couple of Lads who go to the Doctors and end up Swapping their Pants in the Toilets. There's Sucking and Fucking Galore and they Pleasure each other to Climax Spunking their Load all over each other and Cumming up every Fucking Orifice you can Imagine!
0909 866 0442
I Showed Me Over-Sized
Bell-End To Me Doctor
I Love Gay Hunks and my Doctor's got some Muscles on him! I thought my bell-end was Abnormally Large and I had to Show it to him which he didn't seem to Mind. Things got a bit Obvious when I got a raging Hard-On as he was Examining me! We ended up Fucking and Sucking each other Senseless. It Was Amazing!
0909 866 0455
Sir's Fly Woz Wide Open & We All Saw His Cock!
I've Always Fancied our Tutor at College! One day he left his flies open and we saw Everything and I mean Everything! It just made me want him more after seeing the size of his huge cock, It was Fucking Massive! Listen as things start Getting Hot and Horny in this Classroom! Hardcore Filth!
0909 866 0457
Footie Players Try To Humiliate
New Boy 18+ On Team!
These Guys Try to Humiliate the New Boy! What They don't Know is he's Gay and very Fucking Filthy. Whatever they Throw at him he Fucking Loves and things Quickly Escalate into a Perverse Fuck Session filled with Cum, Bum and Plenty of Filthy Cock Sucking! This Bitch Boy Fucking Loves it!
0909 866 0460
I Wank Me Mate In His Footie Shorts
and Imagine He's Ronaldo
This Lad Fantasizes about Ronaldo and is Obsessed with the Footie Star. He Wanks his Mate off Good and Proper Imagining that he is Ronaldo. Listen in as he Pleasures him with skill using his hands with expert precision to extract his Cum from his Swollen Ball Sack.
0909 866 4010