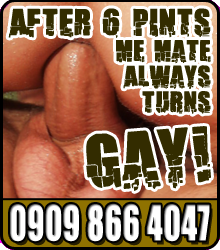 Dangerous Liaison!
Curious or Out and Out Gay, whatever your Sexuality, this story will bring you slowly towards an Intense Climax which will leave your Balls Drained but Hungry for Cock!
0909 866 4202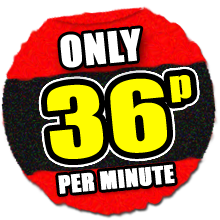 Cheap gay chat offers you Hardcore gay Stories at the low cost of just 36p per minute! We won't be beaten on price so get calling and get wanking!

On the Back Seat!
WARNING! This Story is not for the Faint Hearted. Prepare for some extreme Gay Phone Sex that will push your Boundaries to the limits of Sexual Perversion! Prepare Yourself Now!
0909 866 4185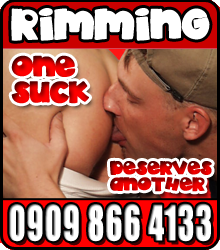 A Kiss From Me Straight Mate Gave Me A Boner
Horny Gay Fucking in this Story of Sexual Depravity! Listen as you Wank yourself Silly to these Gay Boys with a thirst for hot sticky Cum!
0909 866 4082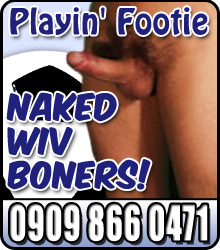 Me Mate Practiced Spankin' On Me Bum Before He Tried It Wiv His Bird!
This Hungry Homo starts a Filthy Fuck Fest which Leads to all kinds of Dirty Sex! Lay Back, Dial the Number and begin a wanking experience you'll never forget!
0909 866 4075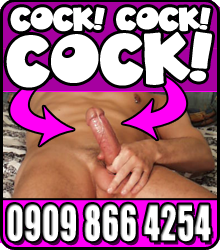 Yer Cock Is More Important Than Me Bird!
This story will blow your mind and your load! Take yourself to the limits of gay pleasure with this perverse tale of Sucking and Fucking! Loads of Cum 'n' Loads of Bum!
0909 866 4069
BEARS STORIES
Wankin' Me Mate's Good but Wankin' His Dad Is Awesome!
Me Mate's Gay and we Love to Wank each other off! I'm Pally with his Dad too and when I overheard him calling up some Gay Sex Lines I knew I could get him to wank me off too. He has more experience than me mate and boy did it show! The way he caressed and stroked my throbbing cock showed his skill and expertise!
0909 866 0456
I Had To Show Me Cock To Me Girlfriend's Dad!
Strange Gay Phone Sex Story! My Girlfriends Dad told me he wanted to see my Cock If I Wanted his Blessing! It all went Crazy after that and we ended up doing things that we shouldn't have. I couldn't resist his Big Beard and Hairy Body which Seduced me into Sucking his Huge Throbbing Veiny Cock!
0909 866 0458
Me Mum's Boyfriend Spanked Me In Front Of His Mates!
Me Mum's Boyfriend always has his Gay Mates round and I can feel a bit intimidated by them because of their Gay Hunks personas, especially when me mums out! One day I got in the situation of getting spanked by him as all his mates watched on! In a kind of strange way I actually enjoyed it!
0909 866 0483
Sir Got Sam To Bare His Bum & I Got A Boner!
Our College Tutor got Sam in class to show his arse and I instantly got a stonking great Hard-on! This Gay Fetish Story will push your pleasure to the limits and leave you craving for more of this Rampant Filth! If you like Cocks, Arses and Loads of cum then this is the story for you!
0909 866 0495
Pervey Assistant In Underwear Section!
This Dirty Gay Story features a Raging Bender who can't help but take advantage of Guys when fitting Blokes underwear! The filth he gets up to when he's in the dressing room will make the Filthiest of Gays Blush! Perverse Fucking and Sucking from this Assistant will have you Blowing your Load like never before!
0909 866 4092
Cute Boys 18+ Bum For Pervey Old Neighbour
This Burly, Hairy Bear Seduces his Neighbour and gets access to his cute Peachy Arse! What will he do with it? Whatever he wants to! He Fucks it! He Licks it! He Spanks it and Cums his hot Load up it! That's before he starts Wanking him off with his Large Hairy Rough Hands!
0909 866 4087
Scally Boy's 18+ Tight Hole Gets Stretched By Old Man's dick
Scally Lads Phonesex meets an Old Bear! This Scally Lad loves sucking cock and licking his mates arses out, rimming them to climax but he's never experienced an Old Bears massive Cock Stretching his Tight Arse into a Loose Gaping cavern! Well it happens here just dial the number to find out how!
0909 866 0474
Is Yer Cock Ready To Spit Creamy Cum?
This Lad just Loves to take a Gay Bears Spunk directly in his Face, Rubbing it in his Eyes and in his Hair, Bathing in the Milky Sticky Bear Man Glue. This Bear lets him know when his Cock is ready to spurt so he can get all of it covering him and licking it off. Tasting it like a Fine Wine or Caviar!!
0909 866 0314