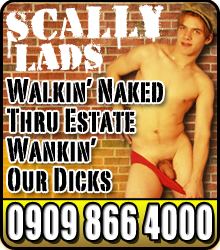 I Showed Me Luv For Me Straight Mate By Kissin' His Dick
This Hungry Homo starts a Filthy Fuck Fest which Leads to all kinds of Dirty Sex! Lay Back, Dial the Number and begin a wanking experience you'll never forget!
0909 866 4003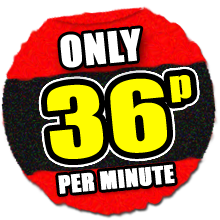 Cheap gay chat offers you Hardcore gay Stories at the low cost of just 36p per minute! We won't be beaten on price so get calling and get wanking!

Me Straight Mate Teased Me Wiv His Boner!
Curious or Out and Out Gay, whatever your Sexuality, this story will bring you slowly towards an Intense Climax which will leave your Balls Drained but Hungry for Cock!
0909 866 4005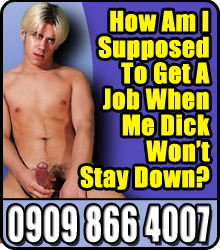 Naked In The Middle Of 2 Gay Boys 18+
WARNING! This Story is not for the Faint Hearted. Prepare for some extreme Gay Phone Sex that will push your Boundaries to the limits of Sexual Perversion! Prepare Yourself Now!
0909 866 4006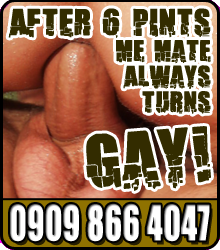 Shy Boy 18+ Wiv Red Cheeks and Horny Dick!
This story will blow your mind and your load! Take yourself to the limits of gay pleasure with this perverse tale of Sucking and Fucking! Loads of Cum 'n' Loads of Bum!
0909 866 4012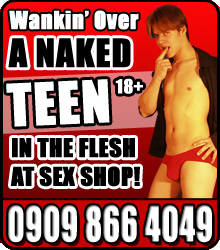 Risky Shag Back Of The Chippy
Horny Gay Fucking in this Story of Sexual Depravity! Listen as you Wank yourself Silly to these Gay Boys with a thirst for hot sticky Cum!
0909 866 4014





SCALLY LADS STORIES
Scallies Wankin' On The Bus!
This Scally Lads Phonesex Story will Have you Spunking your Load from your Throbbing Cock in no time! These Dirty Bastards sit at the Back of the Bus and Play with each others cocks teasing each other until they squirt their Loads together. Listen as they Play with each other on the Back Seat!
0909 866 4030
Scally Cock Suckin' In Tesco Car Park
These Dirty Scally Lads Ring Gay Sex Lines to get them in the mood for Filthy Sucking! They Park at Tesco at night and Suck each other off in the car, getting off on the thrill of getting caught by a passer by, heightening their pleasure even further! Hardcore and very, very Dirty!
0909 866 4004
Scally Strolled Across Platform
Wiv His Hard Dick Out!
This Dirty Scally Lad Loves to get his Nob out at every Opportunity. Waiting for his Train he Walks Across the Platform with his Rock Hard Cock out trying to Entice some Gay Hunks to come and Suck him off and Swallow his Sticky White Man Milk!
0909 866 0497
Scallies Pissed On A Queer
This Queer has a Gay Fetish for Pissing Cocks! These Scally Lads Ganged up to Piss on him but for him it was Heavenly! He Loves the Sensation of a Mixture of Warm Piss Splashing all over his Face, Opening his mouth to collect the warm steamy urine being squirted from all the Guys Cocks!
0909 866 0476
Straight Scallies Fill Me
Mouth Wiv Jizz!
This Dirty Man Slag loves to get filthy and when He gets the chance to take straight Scally Lads Cum in his mouth He Jumps at it! Getting on his Knees without Hesitation. This Gay Phone Sex Story is Hardcore and very Filthy so prepare yourself for a wank of a lifetime!
0909 866 0464
Scally Boner At Music Festival!
This Scally Lad Gets a Boner at a Music Festival with his mate and they get up to Lots of Sucking and Fucking in his Tent away from Prying Eyes. Listen to them as they swallow cum and penetrate each others arses stretching their holes with their huge cocks and getting very Dirty with each other!
0909 866 0438
Suckin' Me New Scally Mate's Cock!
I Met this Guy and instantly wanted to fuck him. He was so fit. We Found Ourselves in Bed and I soon got my Lips wrapped around that beautiful cock of his, wanking myself off as I went up and down on his growing Schlong. Taking it deep down my throat until I choked on it!
0909 866 0435
Slowly Droppin' Me Shorts For Scally Watcher!
I notice this Guy Watching me and I know he's into me. I thought I would give him a surprise and began to pull down my Shorts slowly, teasing him keeping his attention fully on me! I love to have this kind of control over another man it get's me so hard to know someone wants me that bad!
0909 866 0423