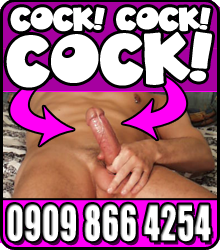 I Think Of Scott Wiv No Clothes On and Me Dick Pops Up!
WARNING! This Story is not for the Faint Hearted. Prepare for some extreme Gay Phone Sex that will push your Boundaries to the limits of Sexual Perversion! Prepare Yourself Now!
0909 866 0390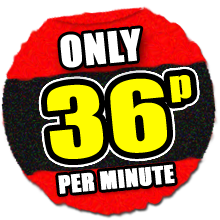 Cheap gay chat offers you Hardcore gay Stories at the low cost of just 36p per minute! We won't be beaten on price so get calling and get wanking!

Me and you Naked On Bench Outside KFC
Curious or Out and Out Gay, whatever your Sexuality, this story will bring you slowly towards an Intense Climax which will leave your Balls Drained but Hungry for Cock!
0909 866 0430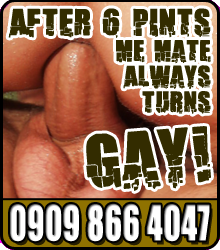 I Walked Thru Park Wiv Me Boner Stickin' Out Of Me Trackies
This story will blow your mind and your load! Take yourself to the limits of gay pleasure with this perverse tale of Sucking and Fucking! Loads of Cum 'n' Loads of Bum!
0909 866 0437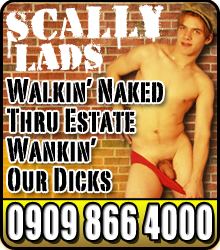 The Dark Room Orgy!
This Hungry Homo starts a Filthy Fuck Fest which Leads to all kinds of Dirty Sex! Lay Back, Dial the Number and begin a wanking experience you'll never forget!
0909 866 4218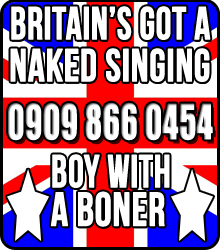 Enjoying my Butt Plug!
Horny Gay Fucking in this Story of Sexual Depravity! Listen as you Wank yourself Silly to these Gay Boys with a thirst for hot sticky Cum!
0909 866 4239
ANAL STORIES
Me Mate's Dad Did Me Up The Bum
Like He Wanted To Do His Wife!!
I always popped round to see me mate regularly and I often had a fag with his Dad. One evening me mate was out and his Dad invited me in. He came on to me and he ended up Fucking me up the Arse good and Hard like he Fucks his Wife! Dial Now to hear more of this Gay Phone Sex Story and wank away your strains!
0909 866 0237
I Bummed Me Mate While He Sucked
His Sleepin' Bird's Tits
Me and my Mate rolled in late after the Pub. We were very close and we crept in his birds room for a laugh! He started sucking on her nipples which got me well hard! He Turned and whispered to me to Fuck him up the Bum! Well, What could I do but oblige his request! These Hot Gay Sex Lines will not disappoint!
0909 866 0238
I Luv The Smell Of Arses After A Footie Game!
I love my Football but more for the arses than the actual game! I Have a strange Gay Fetish, I love sniffing Arses and burying my nose deep between some Peachy Bum Cheeks. I Had always fancied this Guy at Footie Practice and I told him I was Gay. I begged him to let me Sniff his Arse!!
0909 866 0318
"I Let Boys 18+ Make Sweet Luv In Me Flat"
I meet lots of Gay Hunks and am a very Sociable Guy! These two lads loved to be watched when they were having sex! We came to an arrangement. I let them Fuck in me Flat and They let me watch them and wank while they do it! It gets me so fucking hard to see them right there in front of me rutting away in my Flat!
0909 866 4088
U Wanna Stretch Me Tight Hole?
I haven't taken it up the arse too much so my anus is still nice and tight! I love Loads of different Phonesex from Scally Lads Phonesex to Virgins but I need an extra large cock to stretch my tight little arse as wide as it can go. Hear me take it deep and hard as it stretches to breaking point!
0909 866 4074
I Can Hear Boys 18+ Bummin' Next Door!
Thin Walls in me Flat allows me to hear every detail next door! These Lads are Totally Filthy and they don't even care that I can hear them! I love to wank off to their Bumming Sessions. It gets me so Hard I can't help myself! I may pluck up the courage and pop next door, maybe they'll let me join in!
0909 866 4060
When A Pretend Bummin' Turned Real!
It started as a joke! It ended in a frenzied Anal fucking session that blew my mind. Listen to what happened to us when we started foolin' around with each other! It gets so hot I still can't believe it actually happened but I'm glad it did. Now I want to fuck him every day!
0909 866 0293
Shag A Cute Boy 18+ and Make Him Smile
I met this very Cute Boy while I was out and he seemed sad. I began to Chat him up and before I knew it we were back at his and I was Lubing his Arse up good and proper, ready to enter him and bring a smile to that Cute Face of his. Prepare yourself for this Extreme Anal Story that will leave you Drained!
0909 866 0440