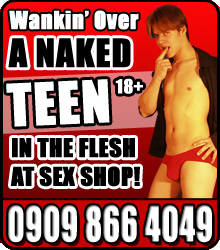 Blow the Boss!
This story will blow your mind and your load! Take yourself to the limits of gay pleasure with this perverse tale of Sucking and Fucking! Loads of Cum 'n' Loads of Bum!
0909 866 4159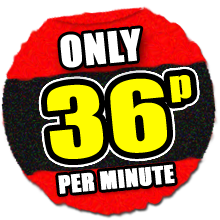 Cheap gay chat offers you Hardcore gay Stories at the low cost of just 36p per minute! We won't be beaten on price so get calling and get wanking!

Down and Dirty!
Curious or Out and Out Gay, whatever your Sexuality, this story will bring you slowly towards an Intense Climax which will leave your Balls Drained but Hungry for Cock!
0909 866 4281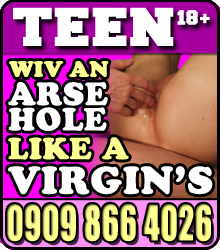 Lick, Suck, Swallow
WARNING! This Story is not for the Faint Hearted. Prepare for some extreme Gay Phone Sex that will push your Boundaries to the limits of Sexual Perversion! Prepare Yourself Now!
0909 866 4175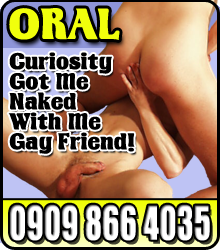 I Shagged A Gay Boy 18+ In Front Of Me Homophobic Mates
Horny Gay Fucking in this Story of Sexual Depravity! Listen as you Wank yourself Silly to these Gay Boys with a thirst for hot sticky Cum!
0909 866 0488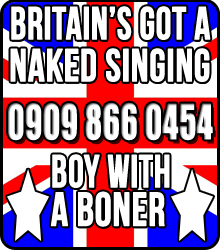 I Shagged A Gay Boy 18+ In Front Of Me Homophobic Mates
This Hungry Homo starts a Filthy Fuck Fest which Leads to all kinds of Dirty Sex! Lay Back, Dial the Number and begin a wanking experience you'll never forget!
0909 866 0488





FETISH STORIES
Pale Skinny Goth's Black Painted Lips Go Up & Down On Scally's cock
This Gay Fetish story features a dirty goth's encounter with an equally filthy Scally Lad. He can't resist he's beautifully painted black lips sliding and soothing his increasingly hard cock until he spunks his load deep down his throat. He craves cum and can't get enough of that cum coating his throat!
0909 866 0233
Assistant At Marks & Sparks Helped Me Try Me Undies On!
This Gay Phone Sex story begins in the changing rooms when this assistant helped me try my underpants on. I love Risky sex and we got up to some Filthy Fucking in there with each other, Sucking, Rimming and Wanking each other off till we squirted our love juices all over the place.
0909 866 0236
Small Swimmin' Trunks Show Root Of Boy's 18+ Dick
He watches the Boy's tight swimming trunks looking for the shape of his dick beneath them. When he decides he likes what he sees he begins his seduction and persuades the Lad to try something a little different! He Shows him the benefits of sucking Cock and taking it up the Arse!
0909 866 0289
We Spit-Roasted Our Dumped Gay Mate!
This Scally Lads Phonesex Fetish Story will make you Cream ya Pants! Listen as this Scally Lad is consoled with a spit-roast by his mates after being Dumped! He Chokes on Dick as it's rammed down his throat and his Sphincter gets tickled by his mates purple headed wand! Very Filthy Hardcore story!
0909 866 0290
Me & U Wiv Our Calvins Clingin' To Our Hot Boners
These Gay Hunks love to wear their hot Calvin boxers to show off their muscular fit Bods and Huge Schlongs! They begin to get very horny and build up a sweat as they Ram each others Arses, Suck each others Bell Ends and play with each other, Teasing Their Cocks until they Finally Cum!
0909 866 0295
Bein' Well Pervey Wiv U & Me Mum's Boyfriend
Imagine It! Gay Sex Lines bringing you a Story of Perversion that Includes You! You meet up with this Guy and his Mum's Boyfriend which quickly turns into a mad sex orgy full of cum, bum and plenty of Sloppy Cock Sucking! We never new his mums boyfriend was into stuff like this but now we'll be visiting more often!
0909 866 0297
Me New Footballer Mates Rubbed Their Sweaty Jocks In Me Face!
I Secretly love the smell of used Sweaty Jock Straps! I joined the footie team and they gave me the initiation ritual which I didn't know about! They held me down and rubbed their sweaty Jock Straps in my face. I immediately got a huge hard on and it didn't go unnoticed by anyone! Find out what Happened Next
0909 866 0317
Me Cockhead Was Snug & Hot Wiv Me Mate's Foreskin Round 1
These Guys Love Sucking Cock so much they can't think about anything else! At every opportunity they can they'll wrap their lips around a hard veiny shaft and take that helmet deep down into their throat swallowing and savoring every drop of cum they can!
0909 866 0337